Scholar Uprising
Devlog Week 3 - Meet the Main Character...
---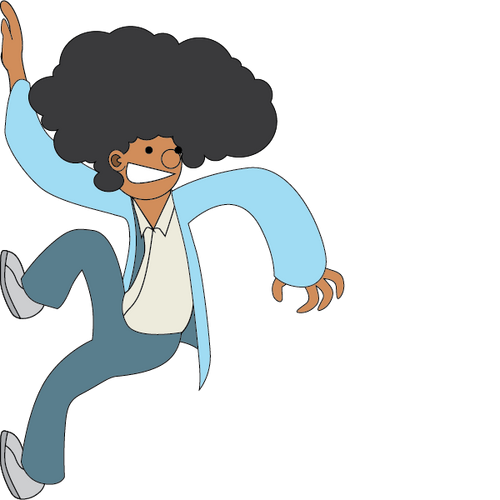 So, the one who will be controlled? Yeah, he's not exactly your grade A student. He is, however, a grade A+ friend. Any class with him inside would be lucky to have a silent session. However, this new encounter with the magical kind has given him powers he has never dreamt before. We haven't really named him, but let's call him "Kribo". Shorthand for afro.
He wears his iconic blue jacket of the class with an unmistakable large perm on his head, very easy to spot in the middle of his friends. He's very carefree- almost too much for his own good. On group projects, he would be the one coming to the meetings, just to hang out with his team mates. They don't really mind because he keeps the discussion going.
From his latest enchantments, he finds a couple of new tricks up his sleeve;
1. Jump good.
Kinetic Magic just happens to boost his jumping power. He has jumped his fair share of fences, but he's pretty sure he has never jumped taller than his own height! One rule seems to be that he can only do this when he's on ground, some why.
2. Extra Strong Grips.
See that wall right there? Yeah, that perfectly smooth and slippery glass wall? He can stick to it. Okay, stick is a very loose term. He'll plop to any vertical surface he can find, but he can only hold his weight so much before he slides slowly down that surface.
3. Swimming through the air.
Having some basic knowledge on physics, he can concentrate all his might to give himself a good push towards a direction. It kinda looks more like he's trying to dive there, and it takes so much of his concentration that he needs to find any kinds of footing to just latch and regain his control. He's never very good at it. The concentration part.
4. He can swing his... ruler?
We've all been there; We hold a long metal ruler, and we swing it around like it's a sword before promptly putting it back down and realizing how silly we were. Well, Kribo's no different. Not just that, but he figured that he can kinda use it to channel his new spells! Any other spells that he touches with said ruler would definitely be disturbed.